Zapiski Puteshestvennikov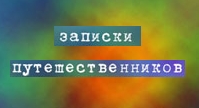 "Zapiski Puteshestvennikov" ("Notes of Travellers")
- the psychodelic project from Nizhni Novgorod, which all songs represent the free improvisation which has been not limited to stylistic frameworks.
The structure includes Zvyara - a vocal, a guitar; Scheloch - all other tools and noisers, and also the Cat Vasily - presence nagual.
VKontakte:
vk.com/club6412842
Members
Zvjara, Alkali, the Cat Vasily.
Location
Nizhni Novgorod, Russia
Язык:

English
|

Русский