*NMRK* (*Ne Mochite Ranenyh Krotov*)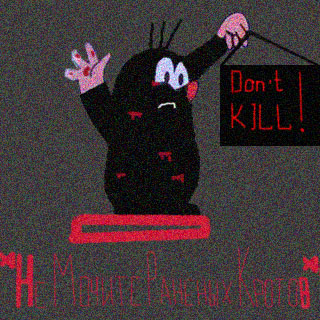 *Ne Mochite Ranenyh Krotov*
("Do not kill wounded moles") - this name is born during brain storm...
At first it there were simply words, but gradually they have found sense as it is found by all on this earth...
Look around who surrounds us? People which are not present business to other people, people which sit in the holes which people surround walls of stereotypes and another's opinion...
simply blind animals afflicted with one aspiration to a survival...
moles...
yes, yes All of us moles, especially in the underground underground :)
And here, when who the thread tries to cross through this threshold of stereotypes and accurate sides of a society if who that tries to become not such...
It tries to be allocated as that of crowd of moles, a society it will wound, it will be wounded by that blow of external opinion which gets to it...
Not it everyone in forces to sustain...
And here We wounded moles, as well as many other things, also it is not necessary to finish anybody from us...
your business to sit underground stereotypes and secret desires, our fate to try to get out and remain such what We is. Not to die under your blind sights...
VKontakte:
vk.com/club16127839
Members
Nikita V [KeD@X] Kobelev, Sema YoMa Kobelev, Dmitriy Gvozd Motorin, Kolya Nicolas Pal.
Location
Ekaterinburg, Russia
Язык:

English
|

Русский