MAK'S ChORNYJ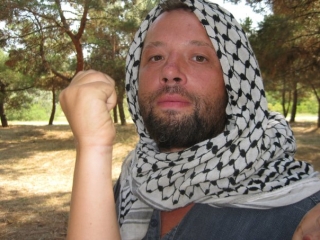 Mak's Chornyj
(Black Max) – the project of one person. Music (if it it is possible to name music), words and record are created by the author. First of all, it is calculated not on the wide listener, but on the person understanding aesthetics of acusmatic, "noise", "Power Electronics", industrial, dark ambient and other "darks". If to you creativity David Tibet, Boyd Rice, Haus Arafna, Duglas P is familiar and clear., Genesis P-Orridge, Coil, etc. - you can understand specific feature of this project is better. Though, it can be clear and to the people absolutely not expert in the aforesaid. Mak's Chornyj works and in live rock projects, but perceives solo noise industrial the project as drawing of sound pictures in which cloth verbal forms are intertwined. These "pictures" are perceived by listeners as subjectively as art cloths are perceived by spectators. The project shouldn't at all and can't be "live", i.e. To be lost "in live" in clubs, differently it will look similar that El Salvador Distances in any next unlimited time will draw the "Great Mastrubator" before public. The project is created by conditions of the moments and we will not repeat, for even the author sometimes doesn't know up to the end that has permitted it to put those, or other dabs on "the Digital Canvas". "Pictures of Sounds" differ from art cloths only that them it is possible to duplicate unlimited quantity of times without quality loss, - and, the unlimited reproduction will be than not to differ from the original. It makes related "Pictures sound" with the literature, but the author, besides, isn't going to, as certain conditional Pelevin to read the verses before public. The author offers the innovations not to weights, but each separate individual. And, this individual doesn't need to go to museums or clubs, - it is necessary for it, simply to climb in the Internet... The Given album is called as "Sarkofagija". The name can be translated as "body consuming". I will not explain sense: you, probably, can subjectively analyse - why I had such analogies.
I recommend to listen to album from beginning to end in that order as tracks are exposed.
For an embodiment "live" or "half-dead" projects of the given type, the author declares the beginning of an era under the name "ASPEN STICK In YOURS ROCK'N'ROLL!", for the fate, with the set the teeth on edge guitars, has got rid for a long time of itself! It is glad to any cooperation. Mak's Chornyj (Black Max).
VKontakte:
vk.com/club6078780
Location
Mytischi, Russia
Язык:

English
|

Русский