Aspirin & TrolleyBus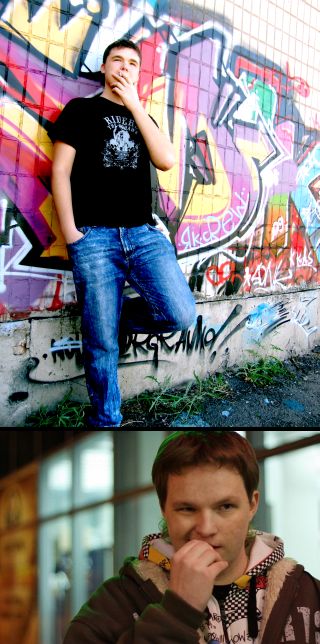 Aspirin
Anton Vorontsov, it
Aspirin
lives to Krivoi Rog, Ukraine.
From the childhood, under the influence of native, listened to compositions Deep Purple, Led Zeppeline, Pink Floyd, Nazareth, Rainbow etc.
At high school transits acquaintance to heavier music, such as:
Metallice, SlipKnot, Sepultura, Pantera, acquaintance to electronic music, passage on The Prodigy, Fatboy Slim, Crystal Method from here has gone.
It was vigorous, fighting music under which it would be desirable to spring and spring.
After certain time, after listening of compact disk TAPOLSKY vol.5, musical taste completely changes.
Further the input enters acquaintance to creativity APHRODITE, RONY SIZE, PENDULUM, DJ HYPE.
Without going in cycles on same, Anton listens to compositions TECHNICAL ITCH, CURRENT VALUE, DONNY, THE PANACEA, DYLAN.
Opening for itself Neurofunk a scene, to get acquainted with creativity SPOR, NOISIA, CONCORD DOWN, BLACK SUN EMPIRE.
After visiting, a party in style Drum and Buss to get acquainted with DJ ALPIK Thanks to it, on October, 17th, 2008, debut performance of a series of parties in club "SHOT" is carried out.
2009 gets acquainted with
TrolleyBus
on party HALLOWEEN in beat Drum & Bass.
Was the visitor on air of the British radio DARKWAX Fade radio show.
2010 begins "first steps" in music writing. Teamwork with
TrolleyBus
under title Don't even hope (Downtempo, Drum & Bass).
To become the participant promo groups "Mad Pixelz".
Working with music, prefers such substyles of Drum and Bass - Technoid, TechStep, Deep Drum and Bass, Leftfield, Microfunk.
TrolleyBus
TrolleyBus
, it Evgenie, was born in Krivoi Rog (Ukraine) where at present and lives.
The hobby for "broken" music has begun in 2007, after acquaintance to creativity dj Starscream (it Sid Wilson [SlipKnot]).
In the end of 2007 opens for itself label BLACK HOE RECORDINGS where absolutely casually gets acquainted with creativity Noize Punishment, namely its release The Riot Outburst EP.
Having heard something new that never heard, began to be interested in style, in the beginning 2008 opens for itself Breakcore.
Thanks to the Internet gets acquainted with executors new to, such as Bong-Ra, Cardopusher, Maladroit and Enduser.
Within one and a half year visited the subject parties connected to broken music, gets acquainted with the Ukrainian brejkkor-scene, starts to "hang up" on the Ukrainian brejkkor-community "CuntGang Ent.".
In the middle of 2009 starts itself to try in a role of the DJ. Organizes promo-group under a title "Mad Pixelz" which is engaged in carrying out of the parties devoted to the experimental music in a native city.
In the end of 2009 tests in a role of the composer, every day, giving to music not a small amount of time.
In the end of April, 2010 there is a first release on the Russian label Rus Zud under a title "Clothes Eat People".
At present tracks were included into such collections as "Cuntology: Brain Damage Edition 2010 (CDs)" [CuntGang Ent.], "BlankTone vol.2" [Blank Net Label], "Cuntroll vol.4" [CUNTROLL.RU].
In the tracks uses a combination of such styles as breakcore, noise, idm, glitch.
Location
Krivoi Rog, Ukraine
Язык:

English
|

Русский